LETTER FROM THE CHAIRMAN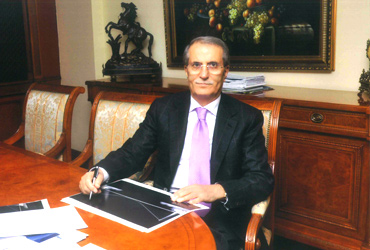 Having started in 1969 with the construction of local boarding schools, our business continues in the fields of construction, energy, infrastructure operations of air and sea ports, tourism and the industry with numerous companies and joint ventures at home and abroad. We take pride in the fact that a project such as the Third Bosporus Bridge and North Marmara Highway after which the leading construction groups of the world seeks and which requires a high level of engineering, organisation, financing and operations skills, is being realised by the companies of IC Holding. Projects such as Istanbul's biggest 5-star hotel and congress centre Bomonti Hilton, Antalya Airport and Çeşme Marina which were constructed and operated by IC Holding groups are some of the examples of our successes at home.
Pulkovo – St. Petersburg Airport and St. Petersburg High Speed West Highway Project which we completed with our partners abroad, is not only the biggest project Russia has imported in the last few years but it is also extraordinary in terms of engineering and technology.
In 1998, we set out as a leading representative of the Turkish energy industry. This path which we began as a company that designs and implements hydroelectric power plants, took a new turn with the 2010s.
In 2011, we achieved a structure covering all steps of the electricity energy value chain by acquiring the electricity distribution and procurement companies of the Thrace Region under privatisation.
In 2014, we achieved one of the most significant privatisation processes in the history of the Republic and acquired Yeniköy and Kemerköy plants which have 1,050 MW installed power. Furthermore, by obtaining the operation rights to the mineral fields feeding these plants, we provided enough reserves for 30 years of fuel. Therefore, we achieved vertical integration to primary energy sources.
In 2015, we achieved major progress in our strategy to grow with domestic and renewable resources by making 140.6 MW Bağıştaş Hydroelectricity Plant operational.
As of today, we are one of the leaders of the industry with 1,325 MW installed power, 6.4 billion kWh electricity distribution and retail sales volume. From now on, our primary goals will be to bolster our position and, while doing so, integrate environmental and social responsibility with all of our activities.
By successfully developing our commercial activities of 46 years, we paid significant attention to social responsibility projects. We completed Ağrı İbrahim Çeçen University which I personally may say is the most significant work and project of my life, in 2007 and handed it over to our government. Therefore, I was deemed worthy to receive "Reward of Exceptional Service to the Government" on 5 April 2007 by the Grand National Assembly of Turkey Presidency Council for my contributions to the Government and the People of the Republic of Turkey in the fields of education, health, sports, culture and arts and to receive honorary doctorate diploma from Ağrı İbrahim Çeçen University personally from our President.
Seeing how the university with over 12 thousand students and a strong academic staff, contributes to the economic, social and cultural development of Ağrı which is where I was born, brings me even more joy.
In order to formulate the education scholarships which I started to provide in 1984, under a more corporate structure, I founded out foundation in 2004. Turning 10 the next year, our foundation provides successful and good services across Turkey in fields of education, health, sports, culture and art. In addition to the 5 elementary schools that we had built, IC Foundation provides gratuitous scholarship to 750 university students in need and has graduated over 10,000 scholarship holder so far and takes pride that they each started their business lives as beneficial individuals.
All these achievements are a story of success and the heroes of this story are my selfless and hardworking co-workers. We work together in peace, trusting one another and following our moral values. We respect the rights of our workers and our suppliers. We remain loyal to our employers, our contracts and always stand by our word. We have never compromised from labour and occupational safety and never will. We believe in the environmental consciousness by hearth and never refrain from doing what is right.
Many years ago in a presentation message, I had written "I have absolutely no doubt that, with our strong infrastructure, expert dynamic staff and contemporary way of management, we will achieve much larger projects and provide larger facilities to our country," and I was right. Because I trust and believe in my co-workers...
İbrahim ÇEÇEN
The Chairman of IC Holding Board of Directors